HOME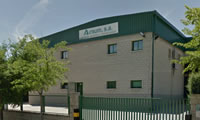 Who we are
AIRSUM S.L is a company specialized in the manufacturing and commercialization of components for air distribution, acoustic attenuators, anti vibration mounts and fire dampers for HVAC systems .
Since the founding in 1973, our aim has been to improve our product range, both in quality and diversity. We have followed a continuous solid expansion process which has provided a leadership position in the Spanish market within our product range. Our products are focused on the air-conditioning and ventilation systems. We have a network of distributors throughout Spain, in order to improve the service that our customers provide to the final customer.
We are located in Pinto (Madrid-Spain), our facilities cover an area of ​​3,000 m2, which include administration&technical offices and the production department.
Our commitment is to consider quality, cost and delivery as three pillars for the base of our manufacturing, which has enabled us to be a natural leader in the market.
Means

AIRSUM S.L. has highly automated production machinery with numerical control which allows a precise manufacturing.
We have an advanced software for the design and calculation of its products. As a consequence, many Engineering companies trust our brand and technical department for the realization of their projects.
We focus our efforts based on quality, both in the supply and production, AIRSUM has been UNE-EN ISO 9001:2008 certified since 2001.
HOME
OUR OFFICE
Airsum S.L.
CL. Alcotanes, 17 (P.I. El Cascajal)
E-28320 PINTO
Madrid - Spain
Tel. +34 91 692 72 40
Fax. +34 91 692 72 41
Email: airsum@airsum.es